The CLAX foldable trolley is a light weight moulded plastic version of our basket trolley.
The Clax trolley weighs 7 kilograms and has a total weight capacity of 60 kilograms, useful for around the office or transporting light, smaller materials or boxed items.
Once folded down the Clax trolley has a total size of 670mm long x 47mm wide x 110mm high, allowing it to be put away in any cabinet or under a desk out of the way.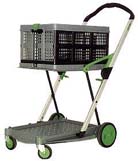 Assembled Clax Trolley